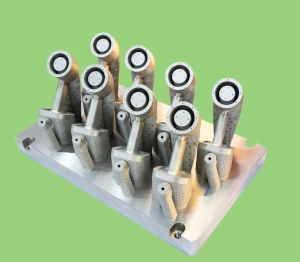 Metal Additive Manufacturing Machines: A Comparison
As technology advances and becomes more affordable, many manufacturers are switching to metal additive manufacturing as a feasible alternative to traditional methods of casting, molding, and milling. Additive manufacturing technologies provide engineers with freedom of design and the ability to create strong, geometrically complex components with great performance and durability.
With the increasing number of additive manufacturing equipment suppliers, it can be difficult to decide which company to go with. We compiled information on metal additive manufacturing machines from some of the top suppliers.


Desktop Metal
Considered one of the leaders in metal additive manufacturing machines, Desktop Metal's primary goal is to make 3D printing accessible to all engineers, designers, and manufacturers. They've developed their own technology called "single pass jetting," which was focused on decreasing print times making the technology more competitive with traditional manufacturing processes.
Shop System
™️
Desktop Metal introduced its Shop System™️ in November 2019, which uses metal binder jetting technology to create high-quality, prototypes and end-use parts. The system contains all the equipment needed for metal binder jetting, from printing through the sintering process. The system is also available in various build volume configurations to scale to a manufacturer's production needs.
Shop System Attributes
Material flexibility: Materials include 17-4 PH stainless steel, 316L stainless steel, and a wide range of additional materials under development.

Print quality: Allows you to print end-use, high-resolution parts with fine detail, with surface finishes as low as

4µm Ra out of the furnace

Easy to use and operate

Live Sinter™ software: Allows sinter simulation to accelerate development and enhance iterative designs.




ExOne
Unlike most other metal binder jetting manufacturers, ExOne has a history of concentrating on making industrial-grade 3D printers. Their vision is to use 3D printing to manufacture parts faster, eliminate waste, and enable once-impossible, world-changing innovations.

X1 160 Pro

™️

With a build box of 800 x 500 x 400 mm, this system offers 160 liters of build volume, which is 2.5 times the build volume of competing systems.

X1 160 Pro Attributes:

Offers the highest build volume available

Print speed is individually optimized for each metal offered

Patented quality feature, Triple ACT, delivers density and repeatability with advanced handling of ultra-fine powders

Capable of printing more than

20 metals, ceramics, and composites



Digital Metal

Owned by Markforged, Digital Metal is a growing company that's produced millions of objects since its creation. It's one of the few companies offering copper as an additive manufacturing material option.
DM P2500

™️
The Digital Metal DM P2500™️ metal 3D printer is a highly rated metal binder jetting printer that offers a flexible way to manufacture metal parts. One of the key features of this machine is its print volume, allowing you to build larger parts.
DM P2500 Attributes:
Materials: Materials include 316L stainless steel, 17-4PH stainless steel, TiA15V, DM 625, DM 247, DM D2 (tool steel), and DM Cu (pure copper)

Hands-off concept: Semi-automated depowdering unit
DM P3000

™️
The newest metal 3D printer in their lineup, the Digital Metal DM P3000™ offers faster printing speeds with the same resolution and feature detail offered by the DM P2500™.
.DM P2500 Attributes:
Build box size options include: 220 x 225 x 70 mm; 220 x 225 x 186 mm; and 220 x 225 x 300 mm

The initial release includes an air atmosphere, with promise of a later upgrade to inert gas
Which Will You Choose?



As you can see, there is a wide range of metal additive manufacturing machines, all of which come with a series of advantages and disadvantages. APG is investing in a number of binder jetting capabilities to fit a variety of customer needs. Contact us to learn more.
Editor's Note: This blog was originally published on 12/28/2021 and was updated on 12/20/2022.