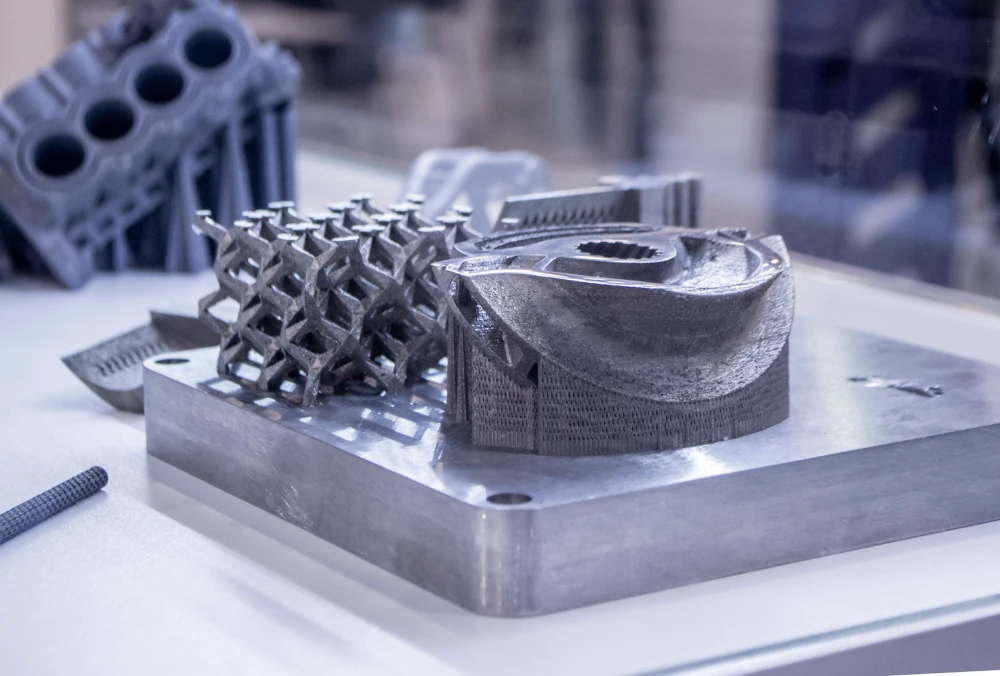 Reducing Manufacturing Costs with Metal Additive Manufacturing
In the world of smart manufacturing, cost management is at the forefront of business growth. Initially only used as a way of prototyping, metal additive manufacturing, also known as 3D metal printing, now offers more efficiencies and capabilities than ever before. As a result, cost savings have also increased.
Today we've compiled a list of 5 ways your company can reduce manufacturing costs with metal additive manufacturing, including:
Lower Material Costs

Reduced Tooling Costs

Ability to Print Spare Parts

New Design Opportunities

Accelerated Product Development




5 Ways to Reduce Manufacturing Costs with Metal AM
1. Lower Material Costs
During the metal additive manufacturing process, raw materials are added layer-by-layer in specified places, thereby reducing material waste as compared to subtractive manufacturing techniques. Additionally, metal AM lets you reduce the amount of materials needed to produce parts. For example, with metal lightweighting, the practice of making parts lighter, can be achieved by using advanced design software, such as topology optimization, lattice building, and generative design software.

With metal additive manufacturing, lighter parts mean lower cost. In contrast, with subtractive manufacturing, removing material from a part to reduce its weight actually increases the cost, due to the need for cutting, drilling, and machining.
2. Reduced Tooling Costs
Tooling such as jigs and fixtures are manufacturing aids that can be used to increase the accuracy, reliability, and quality of the manufacturing process, while minimizing production times. They are often outsourced to external suppliers where they are manually welded and assembled or CNC machined. Producing jigs and fixtures in-house via additive manufacturing is a faster and cheaper alternative.
3. Printing Spare Parts
Your company may maintain a stock of spare parts that are infrequently used or in low-demand. This can be costly, as valuable time and money is sitting on your shelves. With metal additive manufacturing, there is little to no need to keep inventory for spare parts at all. 3D printing technology allows you to produce spare parts on demand, decrease inventory costs, and alleviate supply chain disruptions.
4. New Design Opportunities
Additive manufacturing technology gives designers and engineers a freedom that couldn't be achieved using subtractive manufacturing methods, due to manufacturing complications and high costs. This is another way for innovative companies to achieve cost savings while maintaining design freedom and product innovation.

For example, by consolidating a component into fewer parts, manufacturing time and assembly can be reduced, along with costs. By reducing part count, fewer fasteners are needed, fewer subcomponents need to be ordered and tracked, and there's less chance for assembly error. Operation steps are also reduced, lowering the number of tools, operators, and manufacturing equipment needed.
5. Accelerated Product Development
In regards to product development, many companies use rapid prototyping to significantly reduce the cost of developing new products. During 3D metal prototyping, parts are based on digital CAD files, so changing elements of a prototype requires a simple change in the design file. This allows you to make multiple iterations of your component much faster and at a lower cost than subtractive manufacturing methods. This, in turn, means an accelerated product development process because product flaws and improvements can be made early in the design stage, minimizing costly mistakes. At APG, we like to assist our customers in a "fail-fast" methodology, which compiles many data points to improve functionality in the final product.
Additionally, metal AM can reduce costs associated with product development by minimizing the amount of labor required to manufacture components, tooling, and prototype parts.


Should You Use Additive Manufacturing?
There are many advantages of metal additive manufacturing in regards to cost reduction, including lower material costs, reduced tooling costs, decreased inventory costs, freedom of design, and rapid prototyping. If your job requires flexibility, speed, and cost reduction, additive manufacturing may be a good fit for your project.
For more information on metal additive manufacturing, check out our blog.