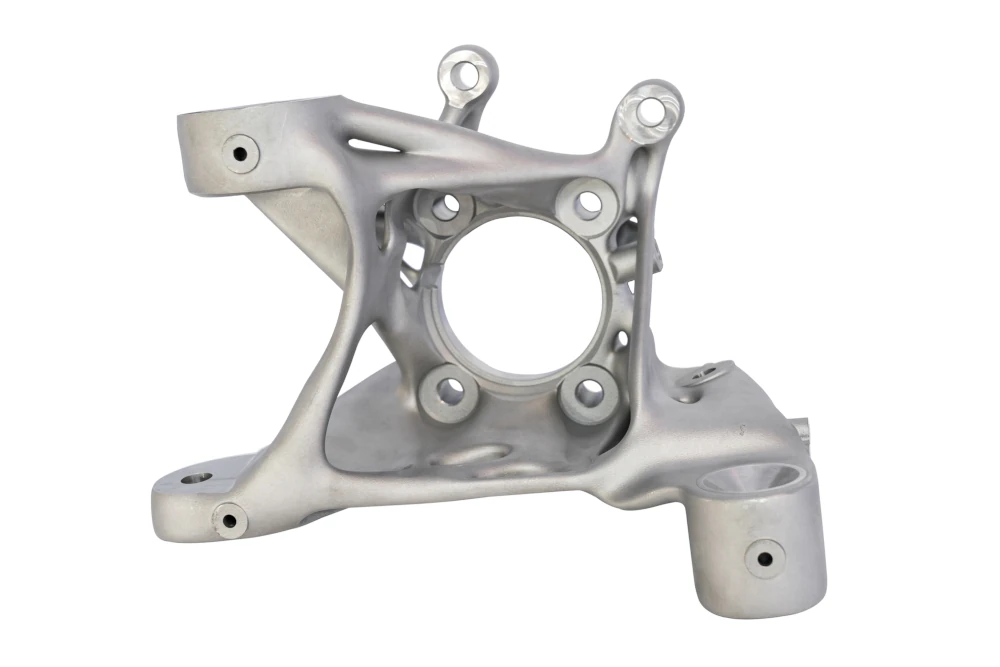 Using Metal Additive Manufacturing for Mass Production
You've probably heard all about the benefits of 3D printing for rapid prototyping. But did you know that many companies are now using additive manufacturing for mass production?
According to Sculpteo's 2020 study "The State of 3D Printing," 50% of companies surveyed used 3D additive manufacturing technology not for prototyping, but for production.
While rapid prototyping is still a part of the game, it's quickly being replaced with the knowledge that metal additive manufacturing also has the capacity to create strong, highly customized parts on-demand, and in high volumes. As the technology advances and becomes more affordable, many manufacturers are turning to additive manufacturing as a feasible alternative to traditional methods of casting, molding, and milling.
Here's what makes metal additive manufacturing a viable option for high-volume production in a variety of industries:
Faster time to market

Expansive material selection

Design freedom

Less waste

No tooling


1. Faster Time to Market
Mass production using additive manufacturing can reduce time to market by avoiding traditional tooling methods, and cutting lead times on prototypes and end-use parts.
Production times can be shortened from weeks to just days, unlike traditional manufacturing methods. Additive manufacturing machines can print continuously with minimal supervision.

2. Expansive Material Selection
From flexible plastic to durable metal, additive manufacturing materials provide you with a wide variety of material options. You can choose the material that best fits your production needs, whether it be to create complex designs or lightweight parts.
3. Greater Design Freedom
During traditional manufacturing methods, a change in part design could mean long periods of time between the redesign process and change approvals. With 3D printing, you can quickly change a model without much downtime.
3D printing allows for fast production. This allows the additive manufacturer to operate on more of a "just-in-time" principle, only producing the amount you need and avoiding wasted money and storage space on excess inventory.
Additionally, as opposed to subtractive manufacturing, there is much less waste with additive processes, which allow you to design from scratch. Many metal additive manufacturing technologies even allow you to recycle unused metal powder.

4. No Tooling Saves Time & Money
Traditional manufacturing methods require expensive tooling, which is eliminated by additive manufacturing processes. This streamlines the process by reducing additional setup and costs, even for mass production.


Mass Additive Manufacturing in Action
Now that you know some of the benefits, see these real-life examples combining mass production and additive manufacturing. They demonstrate the huge industrial potential of this technology:

GE Additive and Safran: Fuel Nozzles
In partnership with Safran Aircraft Engines, GE Additive used additive manufacturing to produce over 30,000 fuel nozzles for commercial aircraft. The total weight of the nozzles was reduced by 25%, and they were able to consolidate the number of nozzle parts (around 20) into one part. Today, GE's Aviation plant has over 40 3D printers.

Photocentric: Valves
This example shows how additive manufacturing can be a reactive process when needs arise.
In March 2020, the British company Photocentric used three 3D resin printers to mass produce valves compatible with breathing apparatuses. This allowed Photocentric to help alleviate the health crisis caused by COVID-19.

Adidas and Carbon: Sneakers
In 2017, Adidas, in partnership with Carbon, launched the production of 100,000 pairs of FutureCraft 4D shoes featuring 3D printed mid-soles. Using Carbon's Digital Light Synthesis (DSL) technology, Adidas was able to print a lattice-like sole, providing comfort and flexibility, in 19 minutes.


Additive Manufacturing: The Future of Mass Production
3D printing for mass manufacturing is no longer an idea of the future. Today, additive manufacturing is being used by manufacturers of all sizes to create products faster and cheaper, with less production waste and increased precision.
From machining components and engine parts to prosthetics and custom orthodontics, metal additive manufacturing's applications go beyond just prototypes; it's the future of mass production.